ALS Hearing Healthcare "New Dispenser" Training Class Program Educators
Alan L. Lowell BC-HIS, ACA
Alan L. Lowell has an extensive background of dedication, achievement, and experience within the hearing healthcare community. Over the last 44 years, he has worked on a local, state, national and international level to advance and improve professional standards.
Alan Lowell is Board Certified by the National Board for Certification in the Hearing Instrument Sciences (NBC-HIS) and holds a certificate of completion from the American Conference of Audioprosthology. He received his Florida dispensing license in 1975.
In 2002, one of the industry's most prestigious publications, The Hearing Journal, recognized Alan Lowell for his outstanding contributions to the professional education and certification of Hearing Aid Dispensers.
Among his accomplishments, Alan Lowell has published articles on Tinnitus, Vestibular Disorders, authored text chapters on Comprehensive Hearing Assessment and developed numerous educational programs that have helped more than 7500 professionals from around the world earn their credentials in the Hearing Instrument Sciences.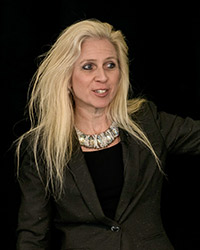 Leanne E. Polhill, BC-HIS
Leanne E. Polhill, BC-HIS, BA received her Bachelor of Arts Degree (BA) in 1988 from Stetson University, Florida Hearing Aid Dispensing License in 1990 and National Board Certification from the National Board for Certification in Hearing Instrument Sciences (BC-HIS) in 1992. Presently, Leanne E. Polhill is Chairperson of the Florida Department of Health's Board of Hearing Aid Specialists, where she has served since her gubernatorial appointment in 2004.
As an industry educator teaching throughout the US and having lectured Internationally, Leanne prepares new hearing healthcare professionals for State Licensing and National Board Certification Competencies and is "lead instructor" for one of the industry's most prestigious educational institutions, Alan Lowell Seminars.
Leanne's professional affiliations include longstanding membership in the International Hearing Society where she currently serves as Governor for the Southeast Region, IHS State & Federal Advocacy Committee and the Florida Society of Hearing Healthcare Professionals (FSHHP) where she served as Secretary and President-Elect prior to her appointment to the Florida Licensing Board.
An accomplished flautist, Leanne is a member of the Daytona Solisti Chamber Orchestra. Leanne has two adult children and is a resident of Port Orange, FL.
Luis M. Valdes, MD, BC-HIS
Disorders of the Ear; Surgical Procedures; Cerumen Management
Luis M. Valdes BC-HIS, MD*, received his medical training from the University of Havana Superior Institute of Medical Science and did his surgical residency in Pinar del Rio, Cuba. Dr. Valdes practiced as an Otorhinolaryngologist until relocating to Miami, Florida in 1995. *Dr. Valdes' medical degree is not recognized in the United States and practices as a Nationally Board Certified Hearing Instrument Specialist (BC-HIS) in Naples, Florida. Dr. Valdes received his Board Certification in 1997 from the National Board for Certification in the Hearing Instrument Sciences (NBC-HIS). Dr. Valdes lectures and conducts training classes in Cerumen Management (ear wax removal) throughout the United States.